Leesburg
Leesburg embodies the historic nature of Loudoun County better than does Ashburn.  As of 1999, it is on the boundary line of suburbia and the country.  It's not only the largest town in Loudoun County, it is also the largest town in Virginia. Numerous in-town loops can be run, taking advantage of sidewalks and quiet residential streets. In addition, the W&OD trail runs through the town and there are plans for additional trails.  There is also a historic district that is nice to run through.  Leesburg is the hometown of Westmorland Davis, the Governor of Virginia from 1918 to 1922.  The estate is now Morven Park; open April through October.  There's no shortage of out-of-town loops for running either.  Most involve both distance and hills but are great for marathon training.  The bucolic nature of the area is intact as of 1999.  Numerous dirt roads are around still which make for good mountain bike loops as well as running loops.  Most of the routes in this section were adapted from routes contributed by Ralph Keith, formerly of the Loudoun Road Runners. 
Leesburg has several nice restaurants and shopping.  Market Station within sight of the W&OD Trail in Leesburg, has several nice restaurants for after the run.  How about doing a late Sunday run in July or August that finishes at at the courthouse, just in time for the start of the Bluemont Summer Concert on the courthouse lawn?  Leesburg also has an outlet mall, including a Nike and a Reebok outlet store.
Getting There
From the Capital Beltway
Take Exit 12, for the Washington Dulles Access and Toll Road, Rte. 267, west.  When getting on to the expressway, stay to the outer (right) lanes.  The inner (left) lanes are only for access to Washington Dulles International Airport.  After 12 miles, just past Sully Rd., Rte. 28, a second toll must be paid to continue on Rte. 267; from here called the Dulles Greenway.  Follow the Dulles Greenway approximately 12 miles further, to Leesburg.  Head West on the Rte. 7 bypass toward Winchester.  Take the Rte. 7 Business Exit into Leesburg.  Take a right at the first stop light onto Fairview Street which becomes Catoctin Circle.  Cross the W&OD Trail, then turn right into the Loudoun County High School parking lot.  Start at the fire hydrant. 
Area Routes
Leesburg In Town (4.25 miles, III)
When the Loudoun Road Runners aren't pounding the hills, they are leisurely looping through the town of Leesburg.  This route combines some of their most often used segments also making a sort of historic tour.  First go through the quiet streets near the high school.  Run right through town on King Street.  As you cross the W&OD Trail, the brick street sidewalks may be a bit congested.   After crossing Market Street however, it's quickly over.  Take Old Waterford Road out past the Rust Library and Ida Lee Park, then return on Fairview's sidewalks and shoulders. 
Thomas Mill Road (9.15 or 9.35 miles, X)
There's nothing like a good mountain run and the feeling of accomplishment you get from having done it.  The hill going up Thomas Mill Rd. is one of the toughest in this guide.  Short segments are steep.  It climbs in 5 stages 400 vertical feet from the base over a distance of 1.6 miles to a top; elevation of approximately 790 feet.  At the top are some spectacular views  Visible are Reston, Tysons Corner and if you look carefully, Northwest Washington D.C. which is 34 miles away as the crow flies.  Leaving the parking lot to get started take a right on Dry Mill Rd.  Proceed on Dry Mill Rd. past the overpass for the Rte. 7 bypass and to the intersection with Thomas Mill Road (State Rt. 820).  Take a Left on Thomas Mill Road and run up the hill.  Take a right on Canby Road going down and bear right at the intersection with Diggs Valley Road (State Rt. 707) to continue on Canby Road.   Canby Road is gravel and there are several parts under the woods.  The climbing's not over after the first hill.  A second climb of 100 vertical feet in 0.6 miles takes you near a radio tower.  Take a right after it onto Colonial Hwy., Rte. 7 business, at the stop sign and proceed just past the intersection with Charles Town Pike, Rte. 9.  This less than half mile segment on Rte. 7 is where you need to be careful due to a narrow shoulder and a 55 mph speed limit.   At Charles Town Pike pickup the W&OD Trail and descend the next 3.2 miles all the way into Leesburg.  As an option, use Dry Mill Rd. to return.  Psyche yourself up. Work up to it.  Go do it. 
Old Waterford Road (11.35 or 12.25 miles, X)
Wake-up early on a Saturday morning and join the Loudoun Road Runners on one of their ritual romps about the country (the club however often starts this route from Rust Library).  The dirt and gravel Old Waterford Road is soft on the feet but it'll make you pay on the hills.  It cuts lengthwise starting across, then cutting over the ridge of Catoctin Mountain.  Leaving the school, get out to Old Waterford Road by the suburban looking Catoctin Circle and Fairfview St. or take the W&OD into town, going out through the historic district, past Rust Library and Ida Lee Park. As you head for the hills pass Morven Park.  Go up the first hill, and bear left at the bottom to continue on Old Waterford Road (Rte. 698).  At the top of the second hill you may want to take a break to enjoy the beautiful views off to your left and right.  By now you should realize that when we say hill, we mean Hill.  Continue on to the intersection with Hurley Lane (Rte. 703) and turn left.  Here a third hill, with a good view to your back, goes to the paved Clarks Gap Road (Rte. 662).  Clarks Gap Rd. has no shoulders and traffic can sometimes be quick.   Use it for under a mile to get to Charles Town Pike, Rte. 9. There a tenth of mile more on the shoulder gets you to a more pleasant place in Paeonian Springs.  The W&OD Trail returns you from there to Leesburg, but not before a modest climb to Dry Mill Rd.  The last 3.2 miles are steadily downhill. 
For a long but flatter (not flat) run around Leesburg, head east toward Ashburn on the W&OD Trail.  Cross a couple of intersections leaving town, the worst of which is the eastern crossing of Catoctin Circle.  After going under the Leesburg Bypass, Rte. 15/7, turn off the trail onto Lawson Rd.  The road is paved at first but becomes gravel as it climbs a steep hill.  Pass Cool Spring Elementary School on Tavistock Dr. and then cross a small ridge.  The little trail on the left on the ridge loops back to the Tavistock Dr. but doesn't save you from any hills.  At Sycolin Rd. use the shoulder and watch out for intermittent traffic.  Sycolin Rd. has gotten busier in recent years.  You'll pass an airport on your right.  After a mile and a half, take Cochran Mill Rd. along side Sycolin Creek.  The pavement soon ends and you'll find yourself crossing farm fields before hitting the W&OD Trail.  The way back gradually climbs a little at a time into Leesburg.  As an alternate, start this route from Cool Spring Elementary School for a shorter 6.8 mile loop. 
Nearby and Connecting Zones
What to do Afterward
Food and Drink
Tuscorora Mill - at Market Station - 703 478-1141/703 771-9300
Scoopers Deli & Ice Cream Bar - at Market Station - 703 777-3317
Dell Rio's - Mexican food w/comedy on Saturday nights - 703 777-9554
Southstreet - at Market Station - 703 771-9610
Laurel Brigade Inn - 703 777-1010
La Villa Roma - 703 777-6223
Entertainment and Edification
Leesburg - historic downtown
Morven Park - home of Governor Westmoreland Davis, Governor of Virginia from 1918-1922; open April 1BOctober 31 - 703 777-2414
Ida Lee Recreation Center - 703 777-1386
Thomas Balch Local History Library - 703 779-1328
Oatlands Plantation - built in 1803, historic landmark and gardens - 703 777-3174
Balls Bluff Regional Park - 703 352-5900
Tarara Winery - Leesburg - 703 771-7100
Distance:          4.25 miles
Rating:  III; streets and sidewalks around and through town; mostly sunny and slight hills
       0.0   from hydrant, go toward Dry Mill Rd
R     0.05 Dry Mill Rd
L     0.25 Lee Ave; becomes Davis at 0.5 miles
L     1.0   Wirt St; becomes 1st St at bend in road to the right (1.2 miles)
L     1.25 King St
       1.35 Catoctin Circle Rd
       1.65 W&OD Trail
       1.8   Market St, Rte 7
L     2.05 North St
BR  2.15 Old Waterford Dr
       2.6   Rust Library/Ida Lee Park (restrooms, water)
L     3.0   Fairview St
       3.6   Market St, Rte 7; Fairview becomes Catoctin Circle
       3.95 Foxridge Park on R
XS  4.15 W&OD
R     4.2   into Loudoun County HS
       4.25 parking at hydrant
<![if !vml]>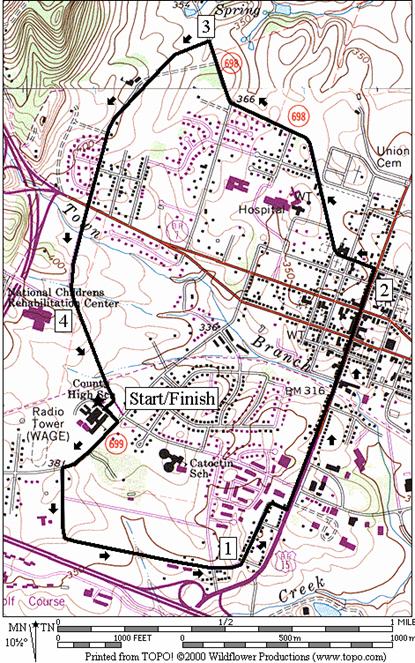 <![endif]>
Distance: 9.15 or 9.35 miles
Rating:           X; paved and gravel roads, railroad grade trail; long steep climbs; mostly sunny
9.15 Mile Route
       0.0   from hydrant, go toward Dry Mill Rd
R     0.05 Dry Mill Rd
       0.25 Lee Ave on L
       0.6   begin bridge over Rte 7 bypass
       0.9   Woodburn Rd on L
L     1.6   Thomas Mill Rd, Rte 820; begin climbing long steep hill
       2.6   Gore La
       3.05 top of hill; views to the east
R     3.2   Canby Rd, Rte 662 (unmarked)(gravel); downhill
BR  3.75 Digges Valley Rd, Rte 707 on L at bottom of hill
       4.05 Surreyfield Way on L
       4.9   top of hill; begin pavement
CR  5.35 E Colonial Highway , Rte 7; (!)
S     5.8   on W&OD Trail; Charles Town Pike, Rte 9 on L; becomes Dry Mill Rd
<*
BL  5.9   W&OD leaves the road
       5.95 Mile Marker 38.5
       6.0   stone arch for Dry Mill Rd
       6.15 Dry Mill Rd
       8.0   stone bridge
       8.6   end bridge over Harry Byrd Hwy, Rte 7
R     9.05 Catoctin Circle
R     9.1   into Loudoun County High School parking
       9.15 fire hydrant in parking lot
<![if !vml]>
<![endif]>
*9.35 Mile Route
S     5.9   on Dry Mill Rd as W&OD leaves the road to the L
       6.15 W&OD Trail
       7.85 Thomas Mill Rd on R
       8.45 Woodburn Rd on R
       8.7   begin bridge over Rte 7 bypass
       9.1   Lee Ave on R
L     9.3   Dry Mill Rd
       9.35 fire hydrant in parking lot
<![if !vml]>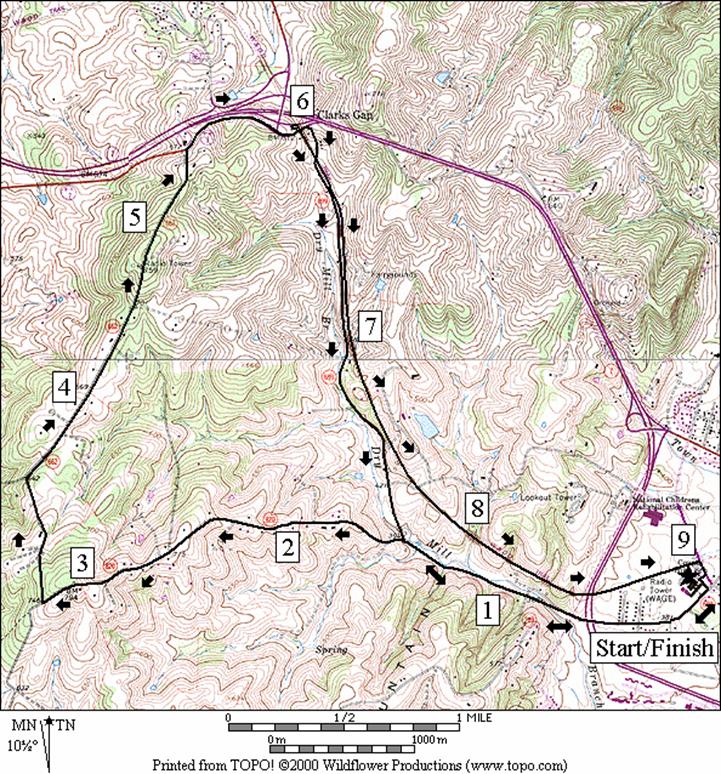 <![endif]>
Distance: 11.35 or 12.25 miles
Rating:           X; dirt & gravel roads, paved roads & paved trail; big steep hills; partly shady
11.35 Mile Route
       0.0   from hydrant, go toward Catoctin Cir
L     0.05 Catoctin Circle
<*
XS  0.1   W&OD
       0.65 W Market St, Rte 7
L     1.25 Old Waterford Rd
>*
       1.55 Southern Planter La on R
       2.3   top of hill
       3.0   Nestlewood Rd on R, Rte 755; bottom of hill at creek
       3.9   Trotter La on R; top of hill
L     4.75 Hurley La, Rte. 703
       5.45 top of hill before pavement begins
L     6.2   Clark's Gap Rd, Rte 662; (! no shoulder)
R     6.95 Charles Town Pike, Rte 9
L     7.05 Simpson Circle
L     7.2   W&OD Trail
       7.65 Mile Marker 39
BL  7.7   trail bears L at Simpson Circle
R     7.8   before Charles Town Pike, Rte 9; to stay on W&OD Trail
L     8.05 at T: Dry Mill Rd to stay on W&OD
L     8.15 W&OD leaves Dry Mill Rd
       8.25 stone arch for Dry Mill Rd
       8.4   Dry Mill Rd
     10.2   stone bridge
     10.75 begin bridge over Harry Byrd Hwy, Rte 7
R   11.3   Catoctin Circle
R   11.35 into Loudoun County High School parking
     11.35 fire hydrant in parking lot
<![if !vml]>

<![endif]>
*12.25 Mile Route
R     0.1   W&OD Trail
       0.35 Dry Mill Rd
       0.5   Valley View Ave
L     0.8   King St
L     1.2   North St
BR  1.3   Old Waterford Rd
       1.75 Rust Library/Ida Lee Park (restrooms & water)
       2.15 Fairview St on L (pickup cues at mile 1.55 of 11.35 mile route)
<![if !vml]>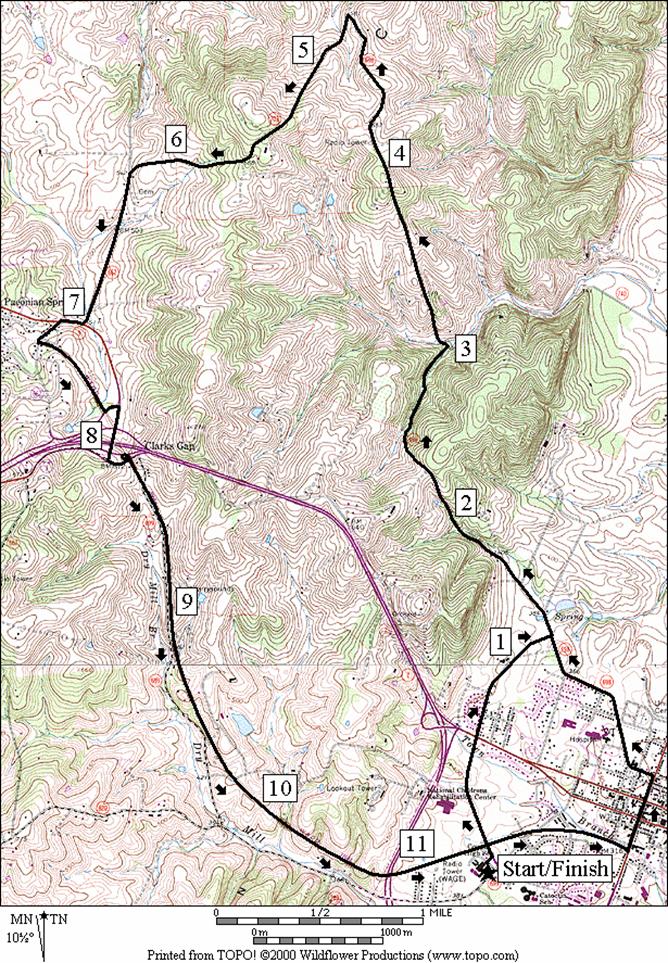 <![endif]>
Distance: 11.6 miles
Rating:           X; paved trails, paved and gravel roads; rolling hills; sunny
       0.0   from fire hydrant, go toward Catoctin Circle
L     0.05 Catoctin Circle
R     0.1   W&OD
       0.3   Dry Mill Rd
       0.4   Mile Marker 35
       0.8   King St
       1.0   Depot St
       1.35 Catoctin Circle; (! no TL)
       1.4   water and restrooms at Douglas Community Center on L
       1.65 Sycolin Rd
       2.15 underpass Leesburg Bypass, Rte 15/7
R     2.4   Lawson Rd (water)
R     2.95 Battlefield Pkwy
L     3.05 Tavistock Dr
       3.2   Cool Spring Elementary School on R
       3.45 trail X on L (paved)
       3.55 trail X on L (paved)
L     3.9   Sycolin Rd; (! traffic)
       4.3   Leesburg Town Limits
L     5.35 Cochran Mill Rd; before creek
BL  6.05 at Gant La on R to stay on Cochran Mill Rd
       6.95 bridge over creek
L     7.15 W&OD Trail
       7.3   Mile Marker 31 (under power lines)
       7.7   stone bridge supports
       8.1   Leesburg City Limits
       8.8   Tuscorora Creek (trail dips)
       9.2   Lawson Rd (water on R)
       9.45 underpass Leesburg Bypass, Rte 15/7
       9.9   underpass Plaza St
     10.2   water and restroom at Douglas Community Center on R
     10.25 Catoctin Circle; (! no TL)
     10.6   Depot St
     10.8   King St
     11.2   Mile Marker 35
     11.25 Dry Mill Rd
CL 11.5   Catoctin Circle
R   11.55 into Loudoun County HS parking
     11.6   parking at fire hydrant
<![if !vml]>
<![endif]>