Lake Artemesia
Lake Artemesia is a man-made lake and park located near the confluence of the Indian Run, and Paint Branch creeks.  A flat 1.3 mile paved path around the lake is popular with walkers, runners cyclists and in-line skaters.  On one side of the lake, the Green Line metro trains race by.  On the other are woods and Indian Creek.  The lake area is sunny and is often windy in the cooler months.  Saplings replaced the taller original trees as it was constructed in the 1990's as a joint project between the Washington Metropolitan Area Transit Authority (WMATA) and The Maryland National Capital Park and Planning Commission (M-NCPPC).  The original lake once was used to raise goldfish.  WMATA removed soils widening the lake and used the soil to grade train tracks and the Greenbelt Station parking lot.  WMATA thus saved money by not having to ship-in the gravel from elsewhere.  The money it saved allowed it to build structures in the park.  According to the Prince Georges Post in 1972, the name of the lake comes from the "socially prominent" Mrs. Artemesia Cloud and her daughter Artemesia Drefus.  From Lake Artemesia, one can quickly reach College Park, the University of Maryland, Greenbelt Park, and Riverdale.
The trails near Artemesia are part of the Anacostia Tributary Trail System.  Just as Indian Creek and the Paint Branch tributaries join to form the Northeast Branch, the Paint Branch Trail and Indian Creek Trail join where the Northeast Branch Trail begins.  The Paint Branch Trail follows its namesake upstream from the intersection and northwestward about 3 miles, to Cherry Hill Rd. at a point near the Capital Beltway and Baltimore Avenue, Route 1.  The Indian Creek Trail is shorter going upstream only 1.3 miles from the intersection to Greenbelt Rd, Route. 193.  South and downstream of the intersection of the Paint Branch and Indian Creek trails, the Northeast Branch Trail terminates after 4.6 in Colmar Manor Community Park. 
Getting There
From the Capital Beltway (I-95), take Kenilworth Avenue (Rte. 201) south and inside the Capital Beltway for 0.5  mile.  Turn right on Greenbelt Road (Rte 193) following it 0.75 miles.  Turn right on Branchville Rd. after Beltway Plaza (see sign for Lake Artemesia) following it for 0.7 miles.  The road will bear left and left again crossing under Greenbelt Road where it changes its name to Balew Avenue.  Just after the stop sign at Berwyn Road, turn left into the parking lot for Lake Artemesia.  The lake, not visible from the parking lot, is further down Balew Avenue. 
Area Routes
Lake Artemesia, the pleasant Paint Branch Trail, and the Indian Creek Trail are joined in this loop.  The section on the Paint Branch Trail is very gradually uphill.  You'll climb only 50 ft. for the first +3 miles of it.  Except when passing near the University of Maryland, quiet parkland, sometimes rural in character, is what best describes it.  Because of the gradual slope, the Paint Branch Trail (not the rest of the route) is excellent for those with intermediate in-line skater skills.  Beginners may find the wooden bridges, the few rises and dips, debris on the trail, and some tight turns in combination with the afore said, too difficult.  The nicest parts border along the Beltsville Agricultural Research Center lands.  A very short section of the Paint Branch Trail, in-between Lake Artemesia and the university, was in the early 1990's a hazard for criminal activity.  It appears cleaned-up now and you are more likely to result in harm from gumballs fallen on the trail than from a crime.  Things can change however, so take a partner if you worry about such possibilities.  Once leaving the Paint Branch Trail at Cherry Hill Road, a 100 ft. hill and increasing traffic lead up to a crossing of Baltimore Avenue, Route 1.  Going down again, the traffic improves and quieter neighborhoods lead to the Greenbelt Metro station.  The route literally passes through the station to get to the other side of the train and metro tracks.  Cyclists must walk, runners can slow to a jog, but all can pass through.  The gates are open around 6AM and closed near 11PM subject to metro schedules.  A mile and a half of footpaths and more sidewalks eventually return you to a crossing of Greenbelt Road, the only other major intersection to negotiate across.  The final stretch is along the Indian Run Trail and the Indian Run creek in Berwyn Heights. 
Old Calvert Road (3.75 or 2.6 miles, III or II)
As an option to lapping Lake Artemesia for shorter runs, try a jaunt through Berwyn Heights instead.  The initial part of this loop climbs the suburban streets to Edmonston Rd.  Once built as the main road through the area, Edmonston Rd is now quiet with good shoulders to pass through on.  What remains of  Old Calvert Rd. now passes through a shaded community park with a disc golf course.  On the return leg using the Indian Creek Trail and the Northeast Branch Trail, you'll pass College Park Airport, which is known as the first airport in the world.  The Wright Brothers came here after their historic flights at Kitty Hawk to continue to perfect their machines.  The airport is still in use today and a museum is nearby. 
Nearby and Connecting Zones
Buddy Attic Park/Old Greenbelt
Sligo Creek/Wheaton/Northwest Branch
What to do Afterward
Food and Drink
Hard Times Café - 301 474-8880
Beautiful Day - Vegetarian meals and groceries - 301 345-6655
YiJo - Korean food - 301 345-6500
94th Aero Squadron - contemporary food; overlooking the airport - 301 699-9400
Entertainment and Edification
College Park Airport Museum - 10AM-5PM daily; 301 864-6029; TTY 301 864-4765
University of Maryland
Herbert W. Wells Ice Rink - 301 227-3717
Calvert Rd Community Park Disc Golf
Distance:          7.85 miles
Rating:              VII; mostly paved trails through parkland with sidewalks and suburban streets
L     0.0   from parking lot
R     0.1   counter-clockwise around the lake
R     0.45 continue around the lake near RR, (toilets, water and concessions to L)
R     0.6   Paint Branch Trail (unmarked) under train tracks (! blind turn and wet under RR)
L     0.8   to stay on Paint Branch Trail (unmarked)
BL  1.0   to stay on Paint Branch Trail near Rhode Island Ave; pass on L side of tennis courts (unmarked)
BL  1.35 TR X; to stay on Paint Branch Trail; head towards Rte 1 (unmarked) 
L     1.45 Baltimore Ave (Rte 1)
L     1.5   Paint Branch Trail and underpass of Rte 1
       2.25 Metzerott Rd
       2.5   Greenbelt Rd (Rte 193) underpass
CR  3.95 Cherry Hill Rd; on sidewalk
L     4.35 Baltimore Ave (Rte 1)
R     4.45 Edgewood Rd at xwalk; (!) use shoulder
       4.8   Rhode Island Ave
CR  4.85 Narragansett Pkwy
L     5.2   Lackawanna St
       5.45 gate for Greenbelt Metro station
       5.5   pass through station
L     5.55 after exiting station; on sidewalk & then use path to go clockwise around the parking lot
CR  6.2   Cherry Hill Rd; on sidewalk
       6.4   Springhill Dr
XS  7.05 at crosswalk (!) near Beltway Plaza shopping; continue S
CR  7.15 Greenbelt Rd (Rte 193) (!); use sidewalk
L/R 7.3   L on 57th Ave, R at Indian Creek Trail head; into the woods. 
CR  7.7   Berwyn Rd (unmarked)
L     7.8   Balew Ave
L     7.85 finish into the parking lot
<![if !vml]>
<![endif]>
Distance: 3.75 or 2.6 miles
Rating:           III or II; roads and paved trails
3.75 Mile Route
R     0.0   from the parking lot
R     0.05 Berwyn Rd
R     0.8   Edmonston Rd
       1.0   City of College Park limits sign
<*
R     1.75 Old Calvert Rd
L     1.95 R after disc golf to stay on Old Calvert (portable toilet is S)
R     2.0   Paint Branch Pkwy
R     2.1   trail ramp to NW Branch Trail (unmarked); just after bridge; go toward the airport
       2.7   wooden bridge over Paint Branch
       2.75 Paint Branch Trail to Lake Artemesia on L (unmarked); start of Indian Creek Trail is S
       2.85 TR X on L to Lake Artemesia
       2.9   TR X on L to Lake Artemesia (food, water and restrooms to L)
R/L 3.0   over wood bridge to stay on Indian Creek Trail
>*
L     3.65 Berwyn Rd
L     3.7   Balew Ave
L     3.75 into parking & finish
<![if !vml]>

<![endif]>
*2.6 Mile Route
R     1.35 Wellesley Dr
R     1.7   Sweetbriar
L     1.7   trail to Lake Artemesia & Indian Creek
R     1.85 Indian Creek Trail (pick-up cues at mile 3.65 on 3.75 mile route; end 2.6 miles)
<![if !vml]>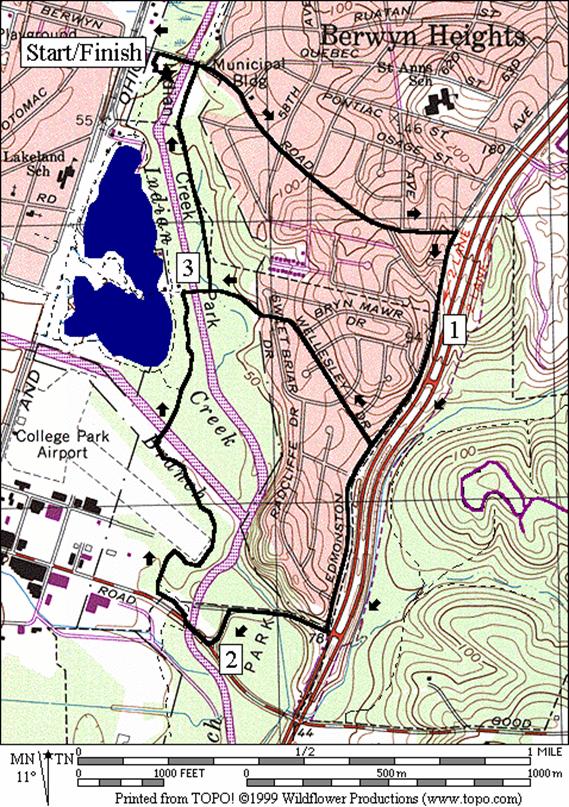 <![endif]>